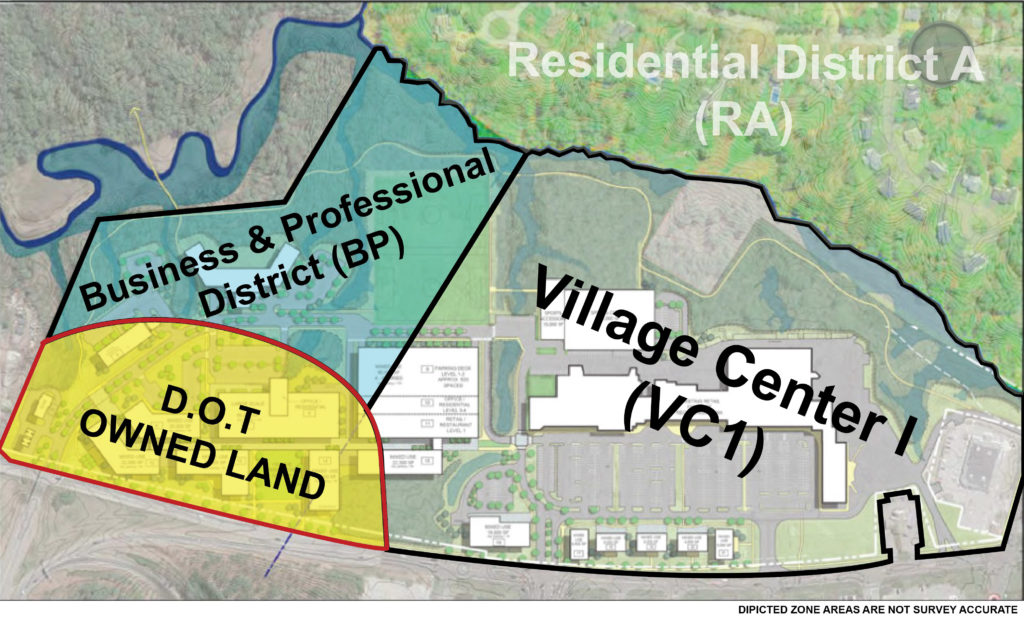 The proposed Falmouth Center straddles two commercial zones, and 11 acres owned by Maine's Department of Transportation (DOT). The commercial land parcel abutts residential lots in the RA District.
The VC1 and BP districts are not zoned for the most controversial portion of the center – a 70,000 square foot sports complex and two outdoor fields with parking for a 120 vehicles. The developers have also requested that the zones architectural standards be relaxed for the complex and they are requesting tax incentives worth $2.5 million.
Sample of additional proposed nonconforming buildings
Garage – VC1 & BP zones – 176,500 sq ft.
Hotel (120 rooms) – BP zone – 78,000 sq ft.
Residential Housing – BP zone – 60,000 sq ft.
[ see what is allowed in the VC1 and BP districts ]
Seacoast United, already listed as a current tenant, would operate the sports complex and the two outdoor fields, each equipped with four 80′ light towers for nighttime events. The fields could operate between 7am and 10pm. The facility would host regular tournaments throughout the year.
Impact Studies Not Completed
| | |
| --- | --- |
| Noise Pollution | |
| Light Pollution | |
| Traffic | |
The DOT anticipates traffic mitigation will be required in Falmouth due to increased traffic volume
For The Record
In 2012, the town of Freeport denied Seacoast United's proposal to build a similar project that also required rezoning of the desired location
"Freeport council blocks soccer complex", The Forecaster, February 29, 2012
Under current zoning, many aspects of the proposal could move forward such as the restaurants and retail spaces
What You Can Do
There are three ways to tell the Falmouth Town Council that you want to repeal the 2016 zoning changes:
Vote in the Falmouth Center Rezoning Poll
Send the Town Council an email
Attend Town Council meetings and share your thoughts
Stay Informed
Sign up to receive email alerts from the Town of Falmouth regarding committee meetings, announcements and more.